Platte County Juvenile Office
Don't Choose Crime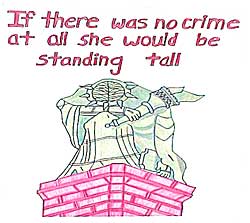 Winning designs from the "Don't Choose Crime" contests
Our mascot, PUEY, the "Crime Stinks" skunk helps with the program activities
in the Elementary Schools throughout Platte County.
PROGRAM OVERVIEW
To reduce the number of youth referred to the juvenile office for delinquency and status offences.
To educate youth, K-12 (primary emphasis is on K-6th grade) of the consequences for choosing crime in hopes of deterring them from becoming involved with the Juvenile Justice System.
To provide factual information about the Juvenile Justice System to schools, youth, families and the community.
To recognize youth that participate in the prevention activities.
PROGRAM ACTIVITIES
DON'T CHOOSE CRIME VIDEO PRESENTATION: The Platte County Juvenile Office produced a video of the juvenile court system which is used in educational presentations for 5th - 7th grade students and to community groups. This video dramatizes crimes and potential consequences. The video also educates youth about the juvenile justice system and the laws that affect them. Click Here to View the Video Online
Elementary Prevention Program includes:
Elementary K – 5th – T-shirt design contest - based on positive ways youth can make good choices and stay crime free.
Winners receive their design on a T-shirt, as do their classmates, teachers and principal.
All those who entered the contest receive special recognition during school presentations.